ESRI Mapping Center has some Style
Take a minute to check out the ESRI Mapping Centers' ArcGIS Styles page and you will see that we have included graphics of the contents of the styles you can download. The center is easy to browse and you can download any style or symbolset to use in ArcGIS. Ofcourse, some of the symbols will be a little hard to see in their full glory in these screen captures (for example, marker symbols that are bigger than the space allotted in the ArcMap Style Manager large thumbnail view.) However, you can still get a good idea of the contents.
Here's a couple examples to whet your appetite:
Elevation color ramps for different biomes. download ShadeMax
Set of light shades of a variety of hues. download Subtle Artist Light Colors
Set of colors for maps for the color deficient. download Color Deficient
View all the styles, plus models, scripts, expressions and more at the ESRI Mapping Center ArcGIS Resources Gateway
Also, just adver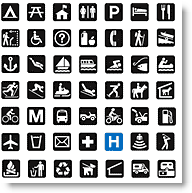 tised, and to be added soon to the MapCenter Resource Page are National Park Service (NPS) symbol sets.
You can download these today from the NPS Harpers Ferry Center.
It is available there for download in a multitude of formats:
Map Symbols

Recreation pictographs, north arrows, bar scales, road shields, etc.
Other Symbols

Pictographs for accessibility, winter recreation, water recreation, etc.
NPS symbols are free and in the public domain. They derive from Ultimate Symbol Collection, a commercial product that offers hundreds of additional symbols.
TrueType Font Symbols

Fonts include both the Map Symbols and Other Symbols shown above.
ArcGIS Symbols

Includes both the Map Symbols and Other Symbols shown above.
Map Patterns

Lava/reef, sand, swamp, and tree patterns (accessed as a swatch library in Adobe Illustrator CS or later).
There's lots of great options out there! Try a new style today!
What is this?
We use the IFWIS Blog to keep our staff, cooperators and the public updated on what we are working on, what's new and share tips about using our software and website.
The content of the IFWIS Blog is often highly technical, but we try our best to keep our posts accessible and jargon-free. When this is not possible, we'll link to other resources online to provide background. Thanks for reading and please follow our blog for updates.
Daily Email Digest (All Public Content)
Or follow just one of the many topic-specific tag feeds or pages below.
Tags